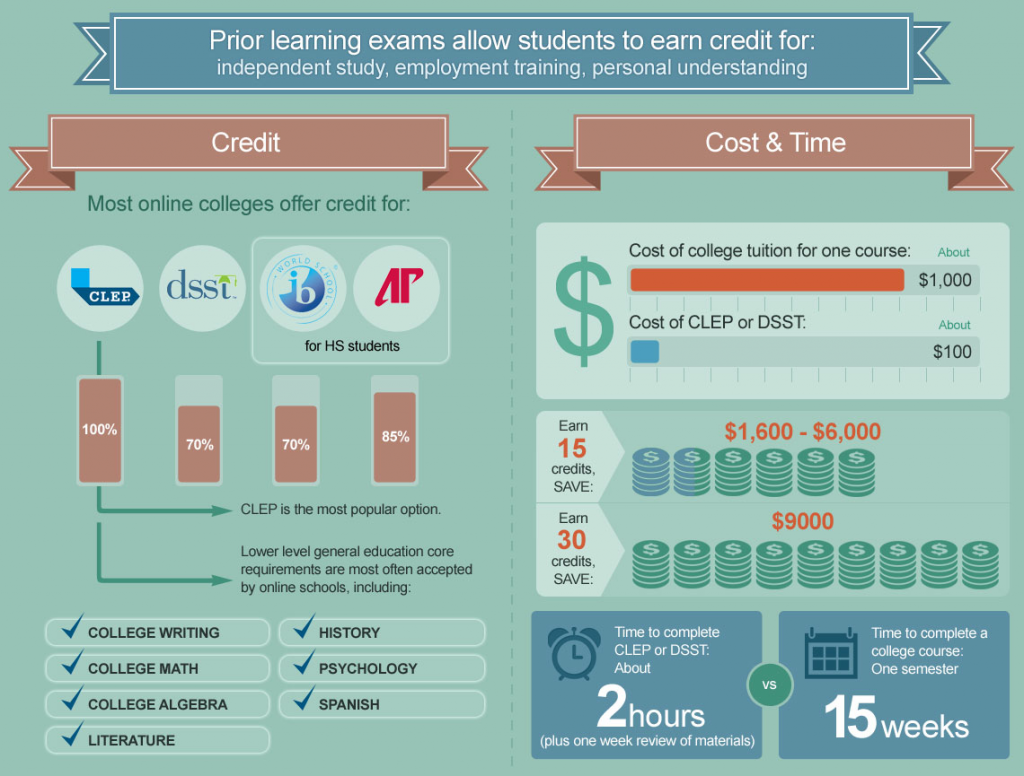 Colleges know that students don't just learn inside the classroom walls: students pursue
independent study
,
learn through employment training
 or may have a genuine knack for a particular subject. Prior learning assessments (PLAs) enable students to prove their proficiency, and get college credit for courses in subjects they've already mastered through these independent learning experiences. But, there are several options that give students the potential to get credit through prior learning exams. Which is the best one for you?
We surveyed 20 online schools that offer at least one prior learning exam option. Most often, colleges offer credit by exam through the College Level Examination Program (CLEP), Advanced Placement (AP), International Baccalaureate (IB) and DSST. AP and IB credits are awarded to students who have taken challenging assessments in high school, while CLEP and DSST exams can be taken at any time, usually by students preparing to enroll in college as new students or transfers.
Of the online schools we surveyed, CLEP was by far the most popular option. For example, at Colorado State University-Global Campus, 45 percent of all exams accepted are CLEP exams. This is common among other online schools, which report that CLEP is the type of test for which they most often grant credit.
The online schools surveyed indicated that core (lower-level general education) courses are most often taken through CLEP or other prior learning examination programs. City University of Seattle identified their most commonly accepted exams as college writing, college math and college algebra, which satisfy core educational requirements for practically any degree. Similarly, University of the Incarnate Word's students can satisfy general education core requirements with exams in literature, history, psychology and Spanish.
Lower-level general education courses that satisfy core requirements are clearly the most valuable prior learning examinations available to online students. But, even though they're only lower-level credits, university officials warn students that the exams may still be very difficult, genuinely challenging them to prove a full understanding of the subject. Fran Kehoe, director of testing and portfolio at Regis University, said that "Regis University encourages students to understand that the exams equate to college-level learning. "Just because you took four years of Spanish in high school doesn't mean that equates to the college-level Spanish on the CLEP exam," says Kehoe. "Study beforehand. These exams are not easy."
But, for online students who are able to tackle these difficult exams, there's serious money to be saved. The College Board, which administers CLEP exams, reports that students who earn 15 credits with prior learning exams will usually save between $1,600 and $6,000 on tuition and fees. Students who take additional exams may save even more.
While tuition for a single online college course might reach $1,000 or more, CLEP and DSST exams are often available for about $100 each, including testing and mailing or administration fees. That's approximately $900 in savings for each class for which you're able to get credit through prior learning exams. With most online colleges and universities accepting 30 or more prior learning credits, you can place out of 10 or more courses without having to pay tuition. Representing a savings of $9,000 or more on online college tuition, prior learning exams should be a part of your affordable online college strategy.
Universities recognize prior learning exams as a good opportunity for college savings. Kathy Yackey, associate registrar at City University of Seattle shares why her university offers credit by exam: "We have found that as everyone's individual budgets are restricted, this is an excellent way to advance knowledge and education at a good cost value."
But prior learning exams aren't just a great way to save money on your online college degree. They can help you save time, too, says Marla Hagemeister, alternative learning coordinator at Bismarck State College. "PLA is a great way for a student to cut costs of a college education," notes Hagemeister. "By using PLA credits, it also helps the students achieve their degree in less time than taking traditional courses."
Saving time on your online degree program with prior learning credits makes sense. CLEP and DSST exams only take, at most, two hours, while online courses may take months to complete. And, students who already understand the material may require only a quick, one-week review of practice exams, allowing students to potentially complete several prior learning credits in the span of time it would normally take to earn credit for just one online college course.
Prior learning exams save online college students both time and money! How can you get on board with this program? Visit the CLEP directory of schools and the DSST institution search to find online colleges and universities that accept CLEP and DSST credits, along with which individual exams they will accept.
You can also find popular online schools that accept prior learning credits in the following list. Each of these schools will accept CLEP, DSST, AP or IB, with some accepting all four. Most will accept up to 30 prior learning credits.